An Interview with Robbie Crowther – Tech Lancaster's Enrolment Manager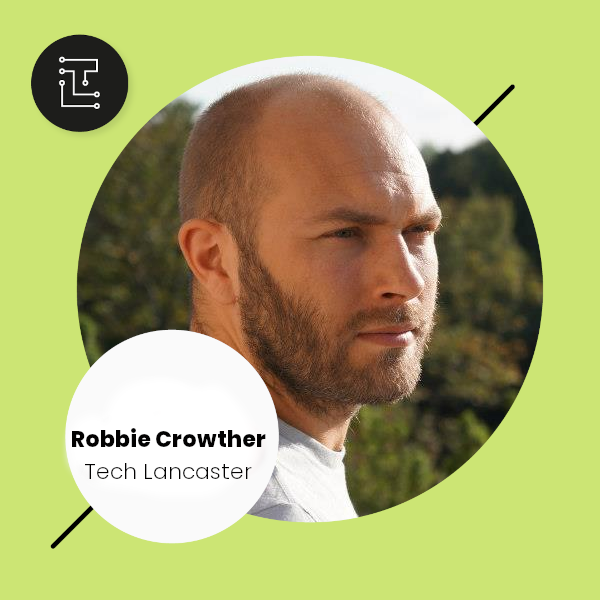 Robbie joined the Tech Lancaster team in November, as part of the enrolment and learner support team. If you decide to be part of the Tech Lancaster Electronic Skills Programme you will almost certainly come across Robbie, as he is the first point of contact for any issues you may face – he is ready for them all!
Robbie has an interesting journey, recently changing career from retail to technology, so this personal experience gives an insight and understanding as to what it's like to start on a new adventure.
Why did you change to a career in technology?
I worked in retail for 14 years but was made redundant with the onset of the Covid pandemic. I decided to take this opportunity to try my hand at something new and use the skills I'd learnt in a new field.
I did have concerns about my lack of technical experience but the support I've received from the rest of the team has prevented this from holding me back.
What do you do on an average day?
I suspect it will be different at different points in the course.
At the moment an average day is very varied. I undertake all the administration for the enrolment process and support the engagement team with social media updates and monitoring website traffic. One of the largest tasks I have been involved in is building and testing the content on the MOOC (Massive Open Online Courses).
In January when the course is in action, I hope to be able to support learners through the online modules of our electronics training course. I will be the first point of contact for any problems. I will be organising the practical lab-based sessions and helping students to get their bearings. I can't wait to help everyone enjoy their learning experience.
Once the course is complete I will be arranging your interviews with the consortium companies and pestering you with follow up questionnaires about how you found the course!
What are the best and least favourite parts of the job?
I think it's a bit early to say what the best part of the job is but so far I have enjoyed
the new skills I've learnt and the new people I've met. As for the least favourite, that would probably be the number of training videos I've had to watch.
Do you have any advice for people thinking of changing career?
Although I didn't originally plan to change career when it came to choosing to start again in a similar job, or taking a leap of faith with something new, I decided that opportunities like this don't happen everyday and it felt like the right time to challenge myself, so I took the leap. I now feel re-energised at work and would recommend anyone else who feels stuck in a rut to take the chance on something new.